Over time everyone who makes jewellery ends up with a few stray beads here and there, left over from projects, the last one on a strand, in all sorts of shapes and sizes that get mixed with other poor beads in the same situation to become bead soup.
It's an unfortunate state of affairs, but for lonely beads it can often be a good thing as it's through the gathering of these left over treasures that some unusual and unique pieces that would otherwise have never been conceived are born.
Mixtures of size, colour, material that usually you wouldn't put together suddenly take on form and something totally unique is made.
My case in point is a very long bead soup necklace, made from using each bead as a link in a rosary style.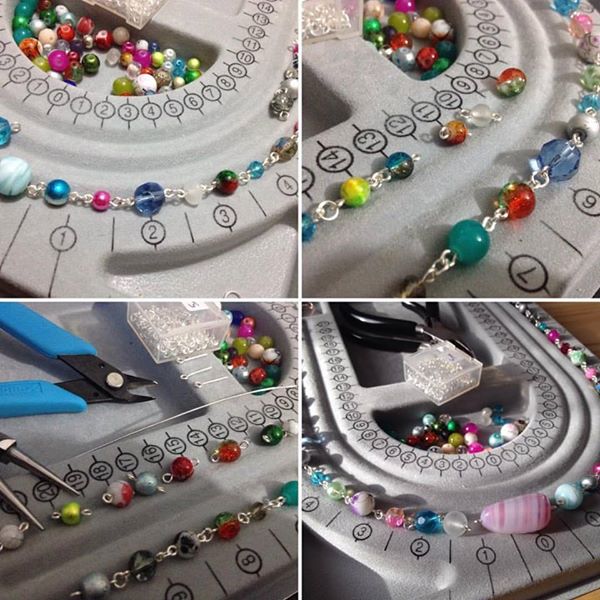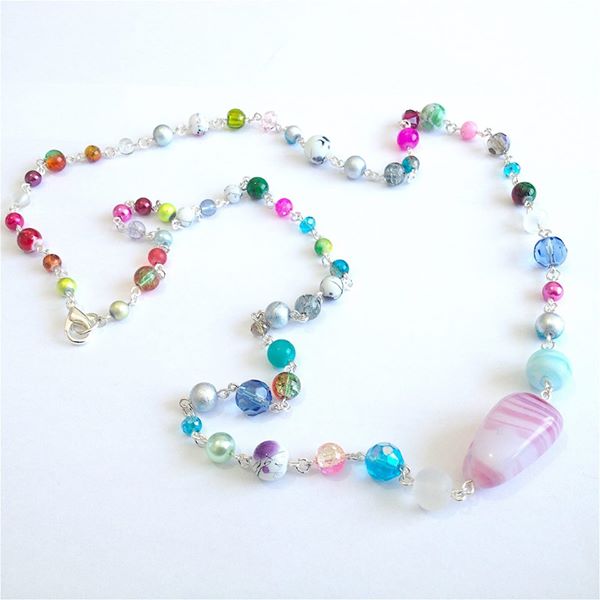 I had no particular plan, other than having a focal bead in the middle and to attempt to have a form of random graduation to make it comfortable to wear – so the back of the necklace near the clasp had more smaller beads than at the front, with a few random larger ones thrown in to make it look cool – but that was about it as far as planning went.
I started making each bead into a link then laid them out on my necklace board to get an idea of where to add the focal bead.
I did a number of links per day here and there, then linked them together into a very long strand.
As it was made of so many glass beads in particular it became quite heavy, so to make sure it stayed secure I used a nice chunky lobster claw clasp.  Not that it needed a clasp really as it's so long you could just pop it over your head to wear it.
I also found it worked quite well as a wrap around bracelet as it went round my wrist a good few times, and I think it would look quite nice as a belt too (it's not quite long enough to wrap around me to find out!)
It is fair to say it is actually one of my favourite makes – totally random, chaotic and colourful, like all good things should be!