As some of you might have noticed various content across my social media and selling platforms have been gradually updated to a new style.
I recently revealed my updated logo and I've been working on my photography to make it more uniform than it was originally.
Gone are the whitewashed wood backgrounds from my earlier imagery (although some instances still exist for older pieces I now longer have to retake under the new style) and in its place I've used a delicate stone background and props to focus on the jewellery whilst providing a neutral backdrop that is pleasant to the eye.
Some selling platforms insist on white backgrounds only, so you may well see some images in that style in order to abide by the rules, but overall my branded images will now be mainly styled with stone and various display aids.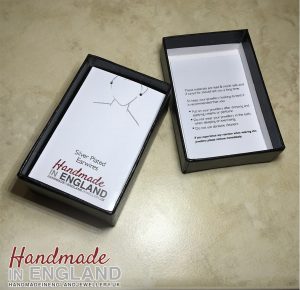 In addition I've also undertaken a reworking of my jewellery cards which will be rolling out from now on and include the logo on the front along with the metal the piece is made from and a section at the back for listing the other materials, such as gemstones and crystals, along with some basic jewellery care tips.
In addition to the recent upgrades to my packaging options I'm confident that these changes will help project a more cohesive and professional image to my brand and add additional quality and customer value to my pieces.
I expect the rebranding and evolution to be ongoing as I am always looking for ways to maintain and improve the quality of my work, including the presentation, and so over time I will continue to build upon my successes and learn from my failures in order to do so.
Watch this space!