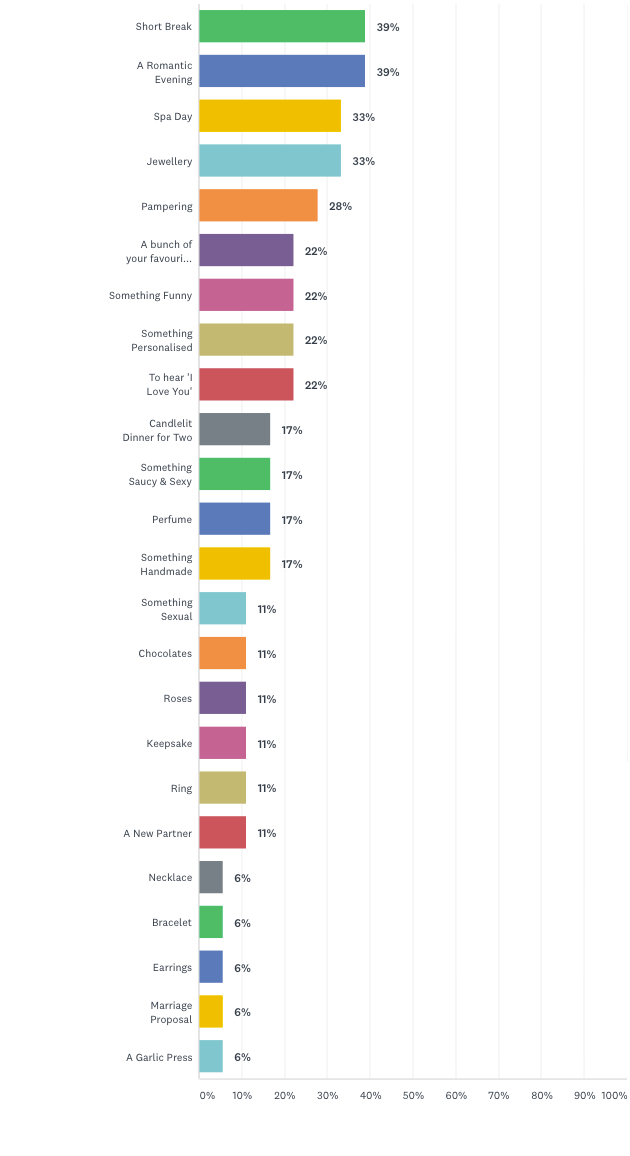 Chocolates? Flowers? Something saucy? A garlic press?
I'm not kidding! I once saw a garlic press advertised as the 'perfect Valentines Day gift!'
We're constantly told what we supposedly want by people trying to sell various products to our partners and secret admirers, which got me wondering as to just how accurate these assumptions are so I decided to run a quick survey to find out just what people really want.
Out of the sample of people who took the survey (thank you Facebook and Twitter) unsurprisingly Jewellery was right up there in its own right, along with a Ring, Bracelet, Necklace and Earrings showing up individually as well.
From the results of my survey the majority of people wanted either a short break or romantic evening in equal measure with 39% with a Spa day and jewellery a close second at 33%.   Pampering came in at 28%.
Hearing the words 'I Love You' was equal to those wanting a bunch of flowers, something personalised or something funny with 22%.
Candlelit dinner for two came in at 17% along with something sexy, perfume or something handmade.
11% wanted a new partner(!) or something sexual, chocolates, roses, keepsakes, or a ring, while 6% wanted a necklace, bracelet, earrings, marriage proposal or that super romantic garlic press.
Yes, people actually voted for it!
So there you have it.  Apparently you can't go wrong with either a short break, romantic evening, spa day or jewellery.
Maybe if you're really lucky you might get them all!