This year Olympia hosted the International Jewellery Show over three days from the 4-6th of September.
Heralded as UK's leading trade event for the international jewellery industry, IJL offers attendees the chance to view the latest collections of finished jewellery, new designs from brand new or established designers and a multitude of jewellery related products from packaging and display to findings and gemstones.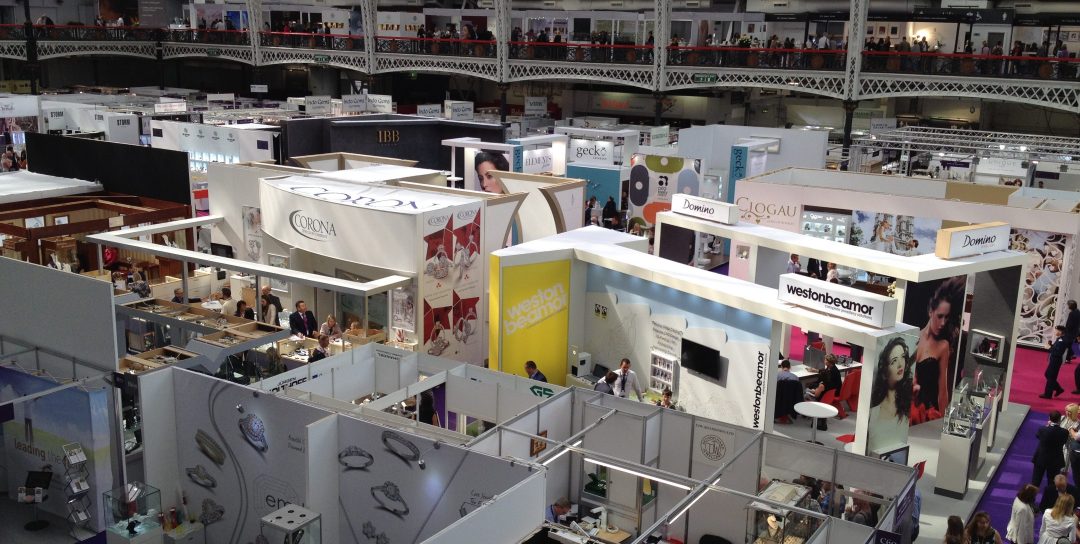 I went along on Day 1, Sunday the 4th, as there were a couple of seminars that day I wanted to attend.
As soon as I arrived and got through the security checks at the door (bag searches / ID check) it was like something out of another world for me.  I've been to more than a few tradeshows in my time ranging from hospitality to business startups to multimedia marketing, but this was totally different.
The whole event oozed class.
There were no comically shaped USB sticks, or branded post it notes, no smiling promo girls handing out leaflets about how some unknown company can get you to the top of Google.  This was something else entirely.
A three piece classical ensemble greeted visitors as we entered the main hall, which was immaculately fitted out with crisp white flower arrangements, and a little further on there was a notice directing people to the champagne bar.  Along with the event guide, branded lanyard and small shiny black gift bag to carry your show guide in, we were all handed a polishing cloth – something that anyone working the the jewellery business will actually find useful.
I had a quick look around the ground floor stands to get my bearings for later on and found the room where the first of the seminars I wanted to attend was being held.
It was the Social Media Workshop run by Warren Knight who is a social media guru by all accounts. Some of the information he provided I already knew about from my 'day job' doing web design and online marketing, but it was helpful to see these things from a different perspective as I've never utilised any of the social media marketing for the purpose of driving direct sales. It was a pretty comprehensive workshop and all the major social networks were covered.
Here's a rather fetching picture of the back of my head during the presentation (I'm the one behind the man in the grey jumper).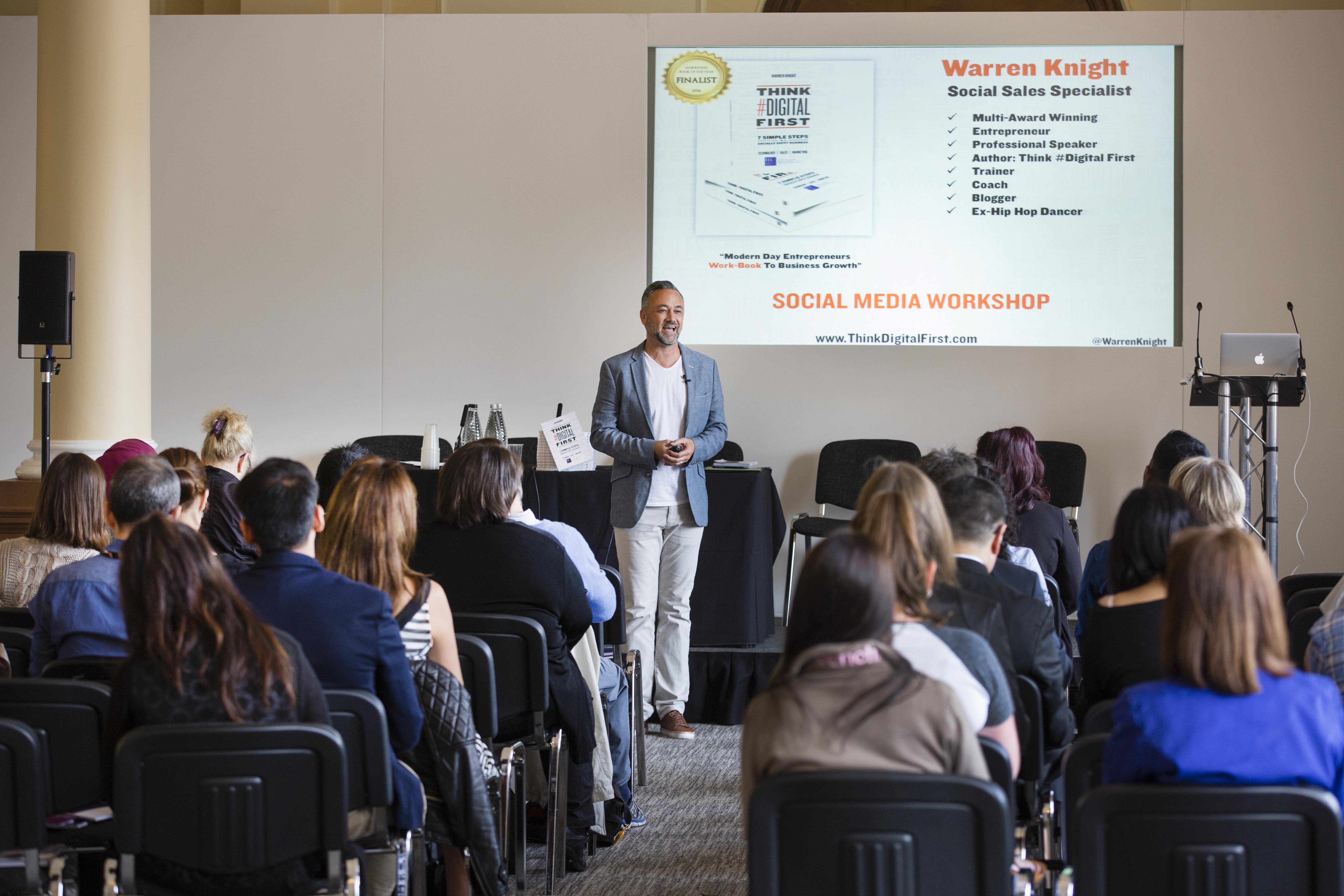 The second seminar which was quite a bit later on in the day was also with Warren Knight and he spoke more specifically about using social media for driving sales.
Between sitting down listening to how to use social media to get people to buy things I spent a LOT of time walking around the show, checking out current designers, new and upcoming designers and I spoke to a LOT of people.
Primarily I was there to learn, and the best way to learn something you want to know specifically about a particular thing is to ask an expert in said subject, and there were a lot of experts available.  I had a list of things I wanted to look at and find out about while I was there, ranging from looking at various display methods – from both the display sales booths and also from the expertly put together displays throughout the show, to finding out about jewellery cleaning products.
I spent a good long while having a very informative chat with a lady about various polishing compounds, anti tarnish strips and small cloths that I wanted include with my silver jewellery.  It may seem like a trivial thing, but I had never ever really thought about cleaning solutions for jewellery before so I knew very little about the options available.  For the most part my jewellery very rarely needs cleaning and I used to have a jar of cleaning solution that you just dip the item in for a few minutes and then wipe over for when things needed a bit of a clean.  It did its job, so I never looked into anything else.  However, after my long conflab with Brenda from Town Talk and a nice lady from Connoisseurs, I'm now a lot more informed and confident about offering advice on cleaning and caring for jewellery in the long term.
The jewellery displays on show throughout varied greatly, with some favouring a very minimalistic look and others preferring leatherette busts in glass cabinets.  It was something I was particularly interested in in case I venture into markets and fairs at some point.  Presentation is everything and I think it's fair to say I didn't see a bad display anywhere.  Nature seemed to be a bit of a theme and I can imagine there was a very happy florist or two, or a heavy pruned rose bush in a garden somewhere as a result of the show.
I also wanted to look at various options for packaging and had a very illuminating chat with a chap who worked at one of the packaging companies exhibiting at the show.
Whilst researching the market I found that primarily the high end places always package your jewellery in a beautiful (and expensive) box, where as smaller boutiques and handmade artisans prefer a more minimalist and cost effective approach.
I think a lot of it comes down to the piece in question; it's value and how often the person is likely to wear it.  My dad bought me a necklace years ago that I have worn everyday since he gave it to me.   It will probably never find its way back into its box.  So in this case a simple pouch or organza bag would have sufficed.
Posting also is a concern, as large boxes mean large postage, and again, if the necklace or bracelet isn't going back in the box very often (if at all) then the purchaser is paying out for something that will probably end up taking up space in a drawer.  They may also be put off by the high postage, meaning they won't buy the piece in the first place.
So I wanted to discuss a quality solution that would post easily and keep the jewellery clean and protected.  I looked a various options and found that there is an increasingly large amount of jewellery boxes being made specifically to fit the Royal Mail large letter specifications, thus saving you money.  Trouble is, the boxes themselves tend to cost more than the larger counterparts, so it's swings and roundabouts. They are however worth keeping in mind for the really exceptional pieces that require such a box.  I ordered some samples of a few of the boxes and some pouches to try for size, quality etc, and I'll probably post about them at some point in the future.
The last thing I looked at were the gems and beads on offer.  I swear I had never seen anything quite like it.  I am personally quite fond of opals and labradorite and it was amazing to see some of the beautiful (and VERY expensive) stones that I can only dream of using at this point in my journey as a jewellery maker.  They were simply stunning.  I have never seen such a shimmer before on any opal I've seen in the flesh (so to speak).  And the pearls – I wish that I had won the lottery before the show!  They were simply exquisite.  Very round, with brilliant lustre and hardly any imperfections, all in such beautiful natural colours.  I also picked up a very informative book all about pearls from one the the suppliers, which detailed things someone who is not experienced should look for when selecting and buying pearls.
There were quite a few gemstone vendors at the show that I could quite easily have spent a fortune with.  Unfortunately one of my favourite vendors I found there comes from Germany, doesn't sell online and only does tradeshows,  with the next one in the UK being next year sometime.  At least it will give me time to save up!
In closing, I would say that despite being on my feet for most of the day I thoroughly enjoyed the experience, I learnt a lot, met some great people and while I can only dream of being able to exhibit there one day I will definitely be attending again.
TTFN.